New Record Now Available For Free Download!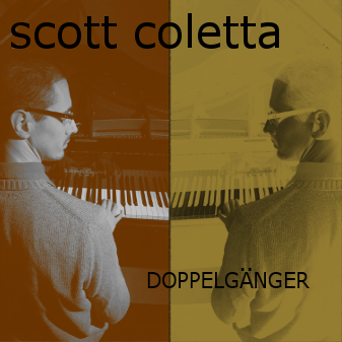 Doppelgänger - April 2015
A few months back I decided to start a recording project, working with some of my favorite jazz standards. Doppelgänger is the result of that project. I've always enjoyed the idea of recording a solo piano track and then playing along with that track and recording another. That is what I've done here. All of the tunes, with the exception of two that are single tracks, were done by first recording a track playing the 'main' part of the tune, also called the head, and a 'background' improvisational section. Then, I went back and recorded another track of supporting accompaniment and improvisation playing along with the first track. To help make the parts clearer, each track is partially panned to the left and right audio channels. It's important to listen in stereo to hear that effect. For me, the biggest challenge in doing this type of playing has always been timing. While I still have much room for growth in that area, I'm excited that I've reached a point in my development that I can pull this off reasonably well. It's no easy task! Lastly, I should mention that I recorded this at home with a single inexpensive microphone in my Kohler & Campbell 6' grand... not ideal, but thanks to my friend Cory Powell who helped with the final production, it turned out alright for a DIY project. Follow the link at the bottom of this page to download the record. Or, if you prefer a hard copy, just email or call. I hope you enjoy the music!
All tracks arranged by Scott Coletta


1 - Bye Bye Blackbird - R. Henderson and M. Dixon
2 - My Favorite Things - R. Rodgers
3 - I Got It Bad (And That Ain't Good) - single track - D. Ellington
4 - Stella By Starlight - V. Young
5 - A Night In Tunisia - D. Gillespie
6 - Softly As In A Morning Sunrise - single track - S. Romberg and O. Hammerstein
7 - Beatrice - S. Rivers
8 - Night Dreamer - W. Shorter
Download a free digital version of "Doppelgänger" by clicking here.